CHILL OUT BLANKET FUNDRAISER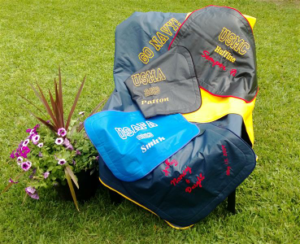 Our custom made weather-proof blankets will delight everyone on your shopping list! Whether you are celebrating graduation, wedding, or a new baby, we have your choice of color, and fabric-plus embroidery that identifies that special day and person.
Check out the special USNA sports blanket at www.chilloutblankets.com. One side is a warm, comfy fleece and the other a thick wind and water-proof vinyl — you pick the color, pattern, and embroidery. Help the Texas Gulf Coast Parents Club raise money for our sponsorship of the Joint Service Academy Military Ball by indicating you're an "ACADEMY PARENT" in the Special Instructions to Seller field on the order page. Tell your friends at the other academies to check us out – USMMA, USMC, USMA, USAFA and USCGA blankets are all available.
Please don't forget to put "ACADEMY PARENT" — each order gets us a step closer to our goal if you indicate you heard about it from us!