USNA Parents Club of the Texas Gulf Coast
Our club serves the Houston metro region, with members from Bryan/College Station to Beaumont.
Craig Peters
2021-2022 President
And if you're not already a member – Join Our Parents Club!
Member benefits include:
In-Touch Newsletter
Military Ball Invitation
Firstie Recognition
Birthday Gift for your Mid
Valentine's Day box for your mid
October Care packages for Mids
Membership in Houston USNA Alumni Association
Networking for your Mid
And getting to know all of our wonderful members who share this bond!
Come prepared to buy raffle tickets, we have great items. We look forward to seeing you!
If you are a new member or a current member renewing your membership, please print and complete the form below and send with payment.
*If you would like to order a Texas-shaped magnetic name tag with your name, and your mid's name and year, to wear at our local club events and while visiting the Academy, please complete that section of the form.

NAVY vs Houston 2021 USNA Alumni Association and Parent's Club of the Texas Gulf Coast Tailgate Party.
Photos: José Andrés
USNA Parent's Club of the Texas Gulf Coast Fall Care Package and bi-monthly club meeting:
https://youtu.be/a_mN1bF3oE0
If you are a new or existing member, PLEASE BE SURE your dues have been paid! If you are an existing member and pay annually, membership dues are collected in July each year.
For more information see our Membership Page
You can make membership payments through Zelle to gulfcoastparentclub@yahoo.com or through Venmo @USNAGulfCoast
You can also pay membership at one of the meetings with a credit card or mail in a check by contacting  at Tom McHugh.
UPCOMING EVENTS
Class of 2026 Incoming Activities
June 30, 2022 – Class of 2026 I-Day
Incoming plebes….you've got this!!
Parents…..bring comfortable shoes and plenty of water. Prepare for an awesome day.
April
_________________________
15     Good Friday
17     Easter Sunday
22     ***FIRSTIE Celebration***
           Houston Christian HighSchool
           George and Barbara Bush Center for Scholars and Leaders
May __________________________
4        USNA- Capstone Day /Last day class
8        Mother's Day
5-13   USNA-Study and exams USNA
23      Herndon Climb
16-27 Block Zero
27      USNA- Graduation Class 2022
28      CLASS of 2026 Weapons Familiarization
           HPD SWAT Range – 0900 – 1200
30      Memorial Day
31      Block 1 Begins – Through June 24
June

 ___________________________
2          Class of 2026 "Welcome Aboard"
            2nd Baptist Church Houston
11     Plebe Pool Party Welcome USNA
            Class of 2026 & NAPsters Class of 2027
19        Father's Day
27        Block 2 Begins –  Through July 22
28        I-Day Class of 2026
July

_________________________
5         Independence Day observed
TBD   Parents Club Meeting
           Welcome New Plebes Parents Parent Club Annual New Member Drive & Yearly Member Renewal
25       Block 3 Begins – Through August 17
August

_________________________
12-14  Plebe Parent Weekend
18-19  Reform of the Brigade
22       Fall Term Begins
September

________________________
5         USNA – No Classes Labor Day Observed
TBD    USNA 2/C parent weekend – Class 2024
TBD    Parents Club Meeting
           Parents bring Treats for the Bags for MIDs for October delivery
TBD    Academic Reserve
October

___________________________
TBD    2 / C Parents Weekend – Class of 2024
11       USNA No Classes – Columbus Day
November

___________________________
     1-5           Academic Reserves
     11            USNA No Classes – Veteran's Day
     13            USNA Parent Club Meeting
                     New Officer Slate Presented
     TBD        USNA Fall Admissions Forum
   25-27        USNA Thanksgiving Holiday
      24          Thanksgiving Day
December

___________________________
     10            Army/Navy Football Game,
                     Philadelphia,PA
     13-21       Review and study for exams
     TBD         Christmas Leave – begins after last exam
      26           36th Annual Joint Services Academies Military Ball
                     Moody Gardens – Galveston, TX
JOINT SERVICE ACADEMY MILITARY BALL

Don't miss the 36th Annual Joint Service Academies Military Ball  (JSAMB) hosted by the U.S. Naval Academy Parents' Club of the Texas Gulf Coast which will be held on Sunday, December 26th, 2021 at the Moody Gardens Convention Center in Galveston, Texas.
Questions about the JSAMB can be directed to Susanne Stafford at susanne958@gmail.com.
CHILL OUT BLANKET FUNDRAISER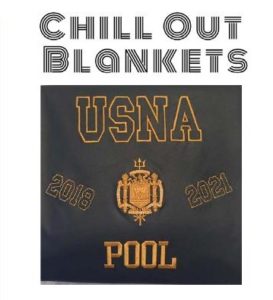 The Chill Out custom made weather-proof blankets will delight everyone on your shopping list and raise money for our Parent's Club!
Stay warm and dry at the Army-Navy Game!
Check out all sports blankets and order yours
today at www.chilloutblankets.com. One side
is a warm, comfy fleece and the other a thick
wind and water-proof vinyl–you pick the color,
pattern, and embroidery.
Help the Texas Gulf Coast Parents Club raise money for our sponsorship of the Joint Service Academy Military Ball by indicating you're an "ACADEMY PARENT" in the "SPECIAL INSTRUCTIONS TO SELLER" field on the order page. Whether you are celebrating I-Day, a football game, or need a special sponsor parent gift you pick your choice of colors and embroidery. Tell your friends at the other academies and any schools (you don't have to be an Academy parent, but please use these words so that we get a portion of the sales price) to order one too! Place your order by early to get it before the game!
To place an order please contact Nancy Miller at 281.516.3881 or online at www.chilloutblankets.com
AMAZON SMILE FUNDRAISER

https://smile.amazon.com/ch/31-1655537
Sign up with Amazon Smile and support
JSAMB every time you shop. Go to the above
link and sign up with your existing Amazon
login or create an account. No cost to you!
Just click on the link and enter your Amazon login and you should see "supporting: USNA Parents Club of the Texas Gulf Coast" below the lookup bar. Bookmark the link and use it every time you shop.